Kaitiaki is a website and discussion forum concept that acts as an online hub for caregivers, social workers and potential users looking to become caregivers in New Zealand. This project was concepted and proposed as part of
R9 Accelerator
 weekend event, RevUp 3+.
Event: 
R9 Accelerator RevUp 3+  
|
Development Time:
27 - 28th January (18 hours) + 10 days refinement 
Client: 
Child, Youth & Family / 
The Ministry of Social Development
|  
My Role:
Product Designer (UX/UI) + Presentation Design
I worked as the sole designer for this project. For this event, I teamed together with
Jamie Tansley (project lead and hustler) and Andrew Tipton (developer) to concept and create a pitch for our innovative product. 
My process began from user research, competitor analysis, ideation, wireframing, designing the user interface for the application and logo design. 
Problem
There is no overarching nationally co-ordinated approach to caregiver recruitment and often organisations are competing for the same pool of caregivers. There is no single organisation has an overall picture of the range and needs of the caregivers, what works in their recruitment and retention, and what kind of support is needed in order to retain them.  
Outcome
Kaitiaki is a website and discussion forum which acts as an online hub to caregiver recruitment in New Zealand. The website guides potential caregivers through the clear recruitment process, provides training and workshops and offers a place for resources to be accessed online. Through the discussion forum, caregivers will be able to connect with other caregivers (in their area and nationally), ask or give help and advice and get in touch directly with social workers online when help may not be able to be provided in person. 
After receiving our initial brief and background information regarding our client's problem, our team took five minutes to sit down and write down as many features and ideas that we could implement for our proposed product. These were quickly jotted down on sticky notes to get as many ideas out as we could. 
We then grouped these ideas by how important they were and if these ideas could be implemented within the proposed given timeframe.
We then took our ideas to representatives of our client and verified which of these ideas and features that they liked and if it fitted their vision. After receiving positive feedback on the idea, we discussed the pros and cons of setting up the proposed site allowing us to understand our idea from their perspective. 
One of the biggest problems our team discovered through these discussions was the issue of privacy and how it could affect the product. For example, it would be a breach of privacy if a caregiver or social worker mentions specific children's names and situations. However, through using the proposed discussion forum, a user may unintentionally break this rule. 
We briefly looked into user personas to identify what kinds of primary and secondary users would be affected by our product. 
Competitor Analysis 
During our discussion with our client, we discussed the various non-government organisations that also recruit caregivers, what they have done, their recruitment process and the similarities & weaknesses these organisation had against Child, Youth & Family. We looked at organisations both within New Zealand and internationally. 
Information Architecture

Once we had decided which features of our product were most important, I created a simple site map to show how the website and discussion forum connected together. There was so much information that needed to be implemented within the product that grouping each set of information was important so we didn't leave any out. 
Sketches & Lo-Fidelity Wireframes 
I sketched several rough ideas of what we wanted the website to look like. We then showed the sketches to the client who gave us positive feedback with few comments to help us improve our concepts. I later went back and iterated on those ideas before translating our sketches digitally.  
From the finalised sketches, I created digital wireframes of the site on Sketch before once again showing them to the client.
Wanting to implement the New Zealand Maori culture within the site's brand, I looked into Maori words and culture to find a name which best suited our project. I named the website Kaitiaki which translates from Guardian, Protector or Trustee in Maori. I thought these words fitted our project perfectly as they gave the site a warm and welcoming feel, adapted to the Maori culture and represented what it means to be a caregiver.  
For the final logo, I decided to implement an icon of two adults holding their hands over a child. Not only did it represent giving a child a home, but showed the protection and guardianship of their caregivers. By replacing the final 'i' in Kaitiaki with the first adult figure, the logo became easier to read. 
I used a range of pinks and pink gradients within the palette as it is a colour associated with giving and receiving care. Pink helps people get in touch with their thoughtful and caring side, either through the need to receive, give or care for others. While also representing caring, compassion and love, I found that pink was the perfect choice for the themes surrounding the problem and our outcome. 
____________________________________________________________________________________________________________________________________
This was the website concept designed at the end of the weekend. 
Kaitiaki is a simple multipage website that serves as a hub for new and returning New Zealand caregivers. It contains all the information needed to support, train and educate caregivers. The site also connects caregivers with all New Zealand agencies and gives them the ability to communicate with social workers and fellow caregivers.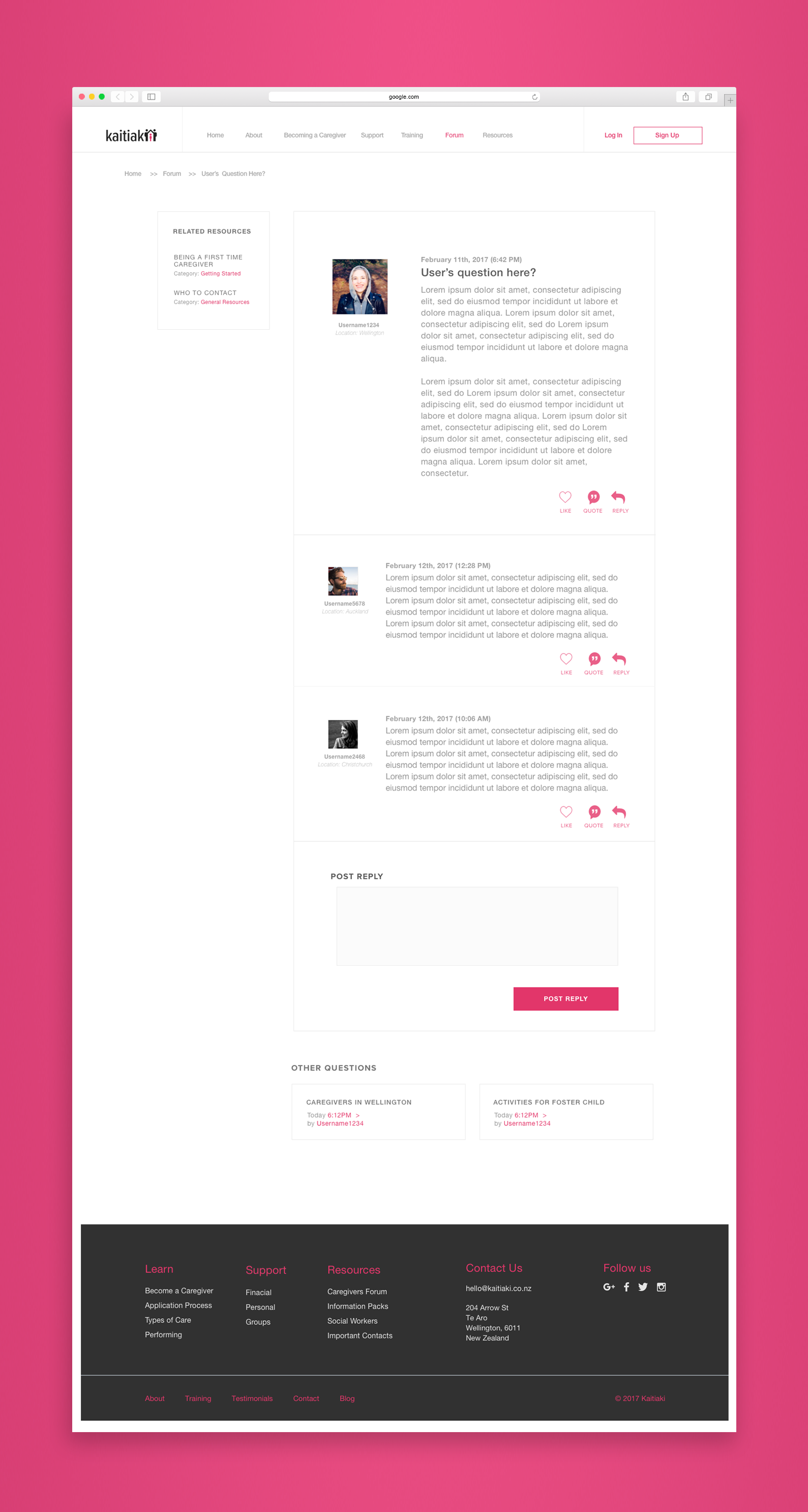 My biggest takeaway over the weekend was how important client communication was to a project. As our client was in the venue throughout the event, we were able to gain constant feedback on our product. This allowed our team to build our pitch and design our product with much more confidence. 
This was also the first time I had also attended an accelerator event and I found it interesting how different it was to a regular hackfest. While there was a lot less pressure with the lack of having to build a working prototype, it allowed our team to concentrate on the fundamentals of the product that we wanted to propose. 
____________________________________________________________________________________________________________________________________
Team
Jamie Tansley (Team Lead)
Andrew Tipton (Developer)
Rosanina Estrella (Designer)